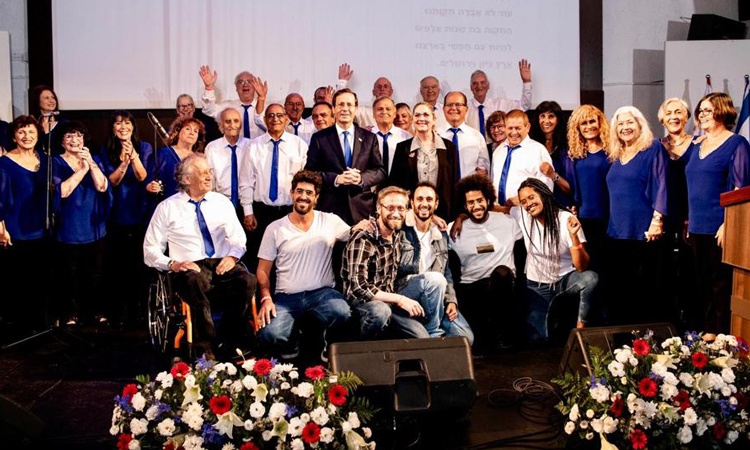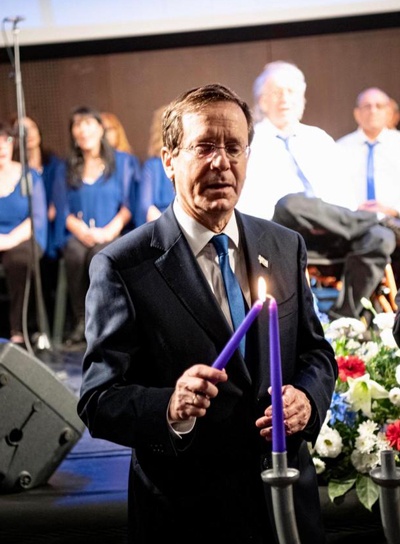 On Sunday night, November 28, Israel's President Yitzhak Herzog, and his wife Michal, lit the first Hanukkah candle at Beit Halochem Tel Aviv. This ceremony also marked the occasion of the Day of Appreciation for the Zahal Disabled Veterans and Victims of Terror. Among those present were Edan Kleiman, Chair of the ZDVO, and Abie Moses, representing victims of terror.
"A week ago, we marked the Day of Appreciation for the IDF wounded and victims of terrorism," President Herzog noted in his opening remarks. "The 17th of Kislev, the date on which the UN General Assembly decided on the establishment of a state for the Jewish People, is the day on which the State of Israel has chosen to honor and appreciate those who were injured in the lengthy process of independence for the people in their country," he continued. "The longstanding process of establishing and preserving the State of Israel is being driven forward by heroines and heroes."
President Herzog went on to define heroism this way: "Heroism is not just storming into the fire or stopping a terrorism with bare hands. Heroism is also getting up morning after morning for a physiotherapy session, to go back and forth, heroism is a daily coping with post trauma and anxiety. Heroism is the ability to transcend pain, to start a family. It is to succeed in getting up when all the doctors said it would not happen; heroism is the struggle for every fraction of independence, even when those around you think it is impossible. You are our heroes," he concluded. "You are our heroines."
Edan Kleiman added a personal note: "All of my friends and I have paid a dear price, but we are proud to have had the privilege to defend the State of Israel."
We wish everyone a Happy Hanukkah from Beit Halochem!