For the first time, this annual event on behalf of Beit Halochem went virtual, a...
READ MORE
After three months of closed Beit Halochem centers, Israeli disabled veterans ar...
READ MORE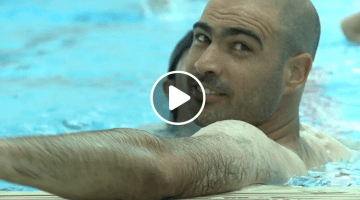 "Shelter-in-place" restrictions in Israel prevent disabled veterans like Roei Be...
READ MORE
INSPIRING WORDS FROM DISABLED VETERANS AND ISRAEL'S PRESIDENT
"
Because of people like you and Beit Halochem, we have reason to get up in the morning. When you recover from the injury, when the wounds have healed … and you get to Beit Halochem – to that warm home – how lucky we are… we have the whole Jewish people behind us.
Wounded Veteran
in Operation Protective Edge (2014)
"
When the clouds have dispersed and the bloodstains washed from the streets, so begins your journey. This is the battle after the war… A battle you fight with your injured body and aching soul; a battle to breathe, to get up, to stand, to eat unassisted, to speak, to read and write, to do up laces and buttons, to hold a cup without it falling, to hold a child in your arms, to sleep one night … free from nightmares and pain. This is a war of independence. This is your war.
Reuven Rivlin
President of the State of Israel
"
You can do anything… I believe one needs to deal with things and one mustn't sink… As soon as I arrived at Beit Halochem, I was approached and to ride bikes. I ride with vets wounded 30 years ago and it is amazing… Everyone has one thing in common: the choice they made to keep on living no matter what happened.
Achiya Klein
Blinded on October 31, 2013