5 Towns 5K Run/Walk Raises Much-Needed Funds to Help Disabled Israeli Veterans
On Sunday, April 30, 2017, an eager crowd gathered in North Woodmere Park to raise funds and awareness for Beit Halochem and the disabled veterans of Israel. This was the 8th Annual FIDV 5 Towns 5k Run/Walk, and almost 400 participants took part, including 60 children in the Annual Fun Run.
"As always, I am grateful for the support of the community for this event," notes Dr. Isaac Seinuk, longtime member of the Friends of Israel Disabled Veterans Board, who is the founder and organizer of this annual fundraiser. "So many people have helped out, donating their time and funds. It is extremely gratifying to see so many committed friends here helping to support FIDV-Beit Halochem, and the brave disabled veterans of Israel."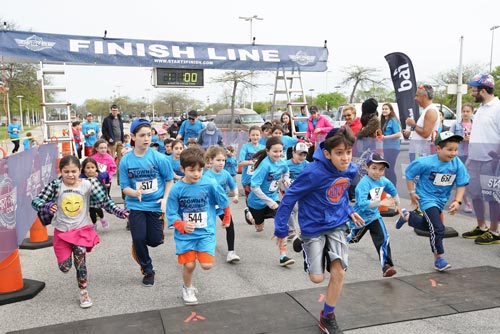 There was something for all ages: Besides the regular race that included 317 finishers, there was a well-attended Fun Run for younger children. Overall, participants in this 2017 fundraiser ranged in age from senior citizens to kindergarten students, and from octogenarians to babes in arms.
Crossing the finish line first was Dmitriy Krasny, 33, of Woodmere, with a time of 17:46.8. The first woman to finish was Erika Feurtado, 18, of Elmont, 4th overall in the race, with a time of 20:31.2. The top performing runners in the 80-90 Age Division were 82-year-old Carlos Morales (33.56.2) and 80-year-old Charlotte Weinstock (55:40.6). Irene Hizme, 79, from Oceanside, an annual competitor in a wheelchair pushed along the course by her grandson, finished with a time of 25:42.7.
We send out a special "thank you" to Shalom Maidenbaum, and Maidenbaum Property Tax Reduction Group, LLC, our major event sponsor since the very beginning eight years ago. Once again, Yaacov Morgenstern sponsored the race in memory of his sister Nancy, who died on 9/11, through a gift from the Nancy Morgenstern Memorial Fund.
Setup and breakdown for the race is provided in large part by Meir Moshe and Abraham Roofing, for which we are grateful. These devoted volunteers are indispensable: from setting up the running course at 6AM or registering runners on the day of the event, the 5 Towns 5K would not happen without their help.
All of our graphic designs are provided by Master Eli Chaiken/ Pakua Martial Arts. Many thanks to everyone!
"It warms my heart to see the concern expressed for Israel's disabled heroes," Dr. Seinuk commented. "Working together we help spread the word about Beit Halochem: the rehabilitation centers in Jerusalem, Haifa, Tel Aviv and Beer Sheva, that provide individualized therapies, classes, physical challenges, specialized team sports and training, academic scholarships, family-oriented activities, and a healing community."
Mark your calendars: The tentative date for next year's event is April 29, 2018.
The complete race results are available at: http://www.start2finish.com/2017/r043017a.htm
Complete list of awards is available here: http://www.start2finish.com/2017/t043017a.htm
View all event photographs at https://runsignup.com/Race/Photos/NY/NorthWoodmere/5Towns5KRun