The Beit Halochem International 5K Run/Walk was held in North Woodmere Park on September 12, 2021. A hearty crowd of 200 persons of all ages joined in person, while disabled veterans and others in Israel partnered with us through a variety of physical challenges and sports.
In person, the overall male race winner, 21-year-old Jake Greenberg, crossed the finish line in 18:31.81. Esther Kornfeld, aged 37, won for the women with a time of 20:12:60.
All of the registered in-person adults journeyed those five kilometers in support of Israel's disabled war heroes and victims of terror. Beit Halochem USA-Friends of Israel Disabled Veterans helps raise funds to support our Beit Halochem rehabilitation centers in Israel.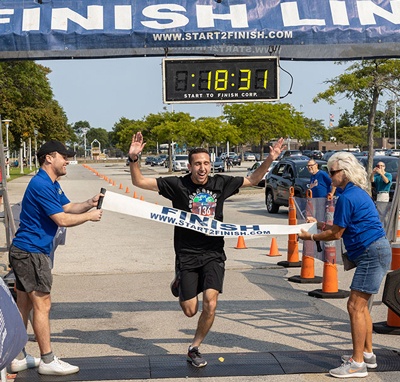 Race organizer, Dr. Isaac Seinuk, Co-Chair of the Beit Halochem USA-FIDV Board, recognizing that many people around the world and in Israel wanted to be part of this annual fundraiser, reconfigured it last year due to the COVID19 pandemic to include athletes participating virtually, therefore broadening the scope of the local race to include our international disabled veterans. We are grateful to Dr. Seinuk for continuing to serve as the International Chair of this remarkable event.
Beit Halochem virtual athletes participated by walking, running, or pursuing other sports challenges, including adapted cycling, riflery, archery, table tennis, and swimming.
"What a terrific combination of commitment and support," remarked Dr. Seinuk. "Both those who joined us in-person to run and walk to help our disabled veterans, and those veterans and terror attack survivors who joined us from afar, have helped the men, women, and families of Beit Halochem. I thank everyone for their commitment and caring."