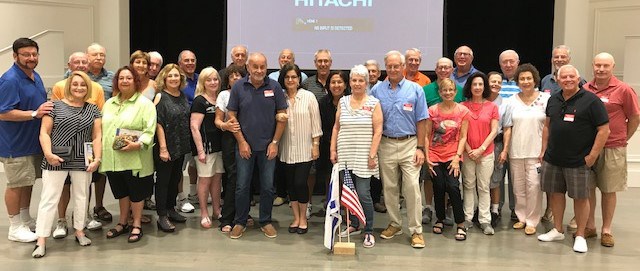 We are happy to announce that our friends at Valencia Bay, Florida, have formed the Friends of Israel Disabled Veterans-Beit Halochem Club. At this initial meeting on April 28, close to 50 people came together to learn more about how Beit Halochem helps disabled veterans and survivors of terror attacks in Israel.
The program also included the gripping film "Beneath the Helmet: From High School to the Home Front" to explain how the courageous young men and women in Israel meet the many challenges of military duty and protecting the State of Israel.
Many thanks to Jim and Ann Cohen and Marty and Rita Samuelson for chairing this important event. Their hospitality and overriding concern for the heroes of Israel will help the chapter make a difference.
We welcome all of the new members of the FIDV-Beit Halochem Valencia Bay Club. Please help spread the word, and reach out to friends, family and colleagues to join us in helping the wounded soldiers and terror victims in Israel on their long road to rehabilitation. Working together the sky should be the limit!
Contact: James Cohen, Chair, Marty Samuel Co-Chair
Tel: 561.509.9150 ; Email: vocdoc56@gmail.com