The Israeli American Council National Summit 2019 brought together over 4,000 delegates – Israeli Americans and Jewish Americans – for a critical dialogue and inspiring sessions exploring a vast array of subjects, from December 5-8, 2019, at the Diplomat Beach Resort in Hollywood, Florida.
As noted on the IAC web site, the 2019 Summit "features change makers and thought leaders across a range of fields, from business and philanthropy, to education, language and community building, technology, and social change." (Click here to see video from IAC Summit 2019.)
This summit is the largest gathering of persons and organizations committed to facing the many pressing issues challenging the state of Israel and the Jewish people. Distinguished guests, scholars, politicians, lay leaders and Jewish professionals, had the opportunity to meet and explore many pressing issues for Israel and Jews everywhere. These included, among many other topics:
Antisemitism in the world
How America can win the fight against antisemitism
The BDS movement
Jewish education for Hebrew speaking young adults
Giving students the courage to lead on campus
Innovations in Israeli science and more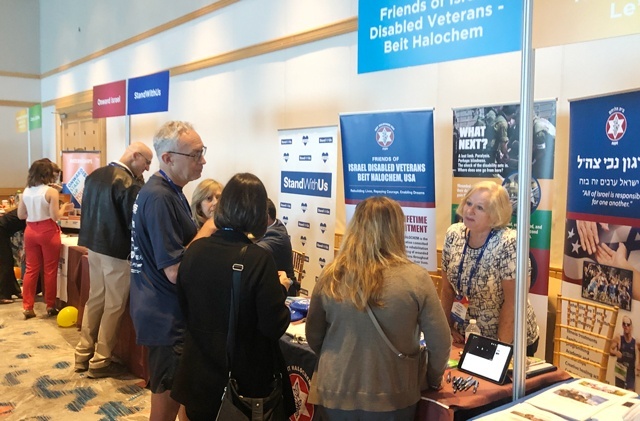 Among the plethora of distinguished speakers at the Friday Plenary session was Dr. Stanley Fisher, Former Vice-Chair of the Federal Reserve, and Former Governor of the Bank of Israel; Yaakov Katz, Editor-in-Chief, The Jerusalem Post; Elan Carr, United States Envoy to Monitor and Combat Antisemitism; and Dr. Miriam Adelson and Sheldon Adelson, philanthropists and founders of the IAC.
Other distinguished experts and activists at the Summit included Gidi Mark, CEO of Birthright Israel, and Prof. Leonard Saxe, Director of  Steinhardt Social Research Center at Brandeis University.
Netta Barzilai, the 2018 Eurovision Winner (Israel) greeted participants before being interviewed by Israeli journalist Dr. Hila Korach. Shalva, a group which features musicians and vocalists with disabilities, performed a moving version of "G-d Bless America."
At the closing of the IAC National Summit 2019, Israel's President, Reuven Rivlin, brought greetings. Dr. Miriam Adelson introduced President Donald Trump, who addressed the crowd with enthusiasm.
FIDV Trustee Isaac Seinuk and his wife Fern attended, as did the Boca Raton FIDV-Beit Halochem Chairs, Lisa and Barry Levi, along with Ella Levine, FIDV's National Executive Director.
"We were honored to represent Beit Halochem and Israel," Levine noted, "and to be part of this work of uniting the United States Jewish communities and Israel."