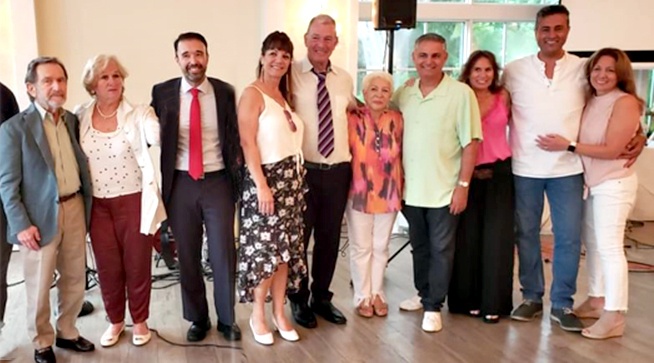 On Sunday, September 18, Beit Halochem USA/Friends of Israel Disabled Veterans, held a brunch fundraiser at Deer Creek Country Club in Florida. We were honored to have Israeli Deputy Consul General, Mike Driquez, join us for our Celebration to Support Israel's Disabled Veterans.
Ricky Pen, international singer and musician, provided the delightful musical entertainment.
Chairing this brunch were Jim and Ann Cohen who welcomed a sellout crowd of 200 guests. The luncheon honored the late Al Ben-Ness, z"l, with the Gibor Israel/Hero of Israel Award. Lisa Ben-Ness Levi and Barry Levi received the M'Dor L'Dor Award. Haviva Ben-Ness accepted the Eshet Chayil Award. Morton Karper, longtime friend of disabled veterans, received a Lifetime Achievement Award.
Guest Speaker Ofer Eden, an Israeli veteran who lost his hand in the Yom Kippur War, shared his personal story of overcoming his disability, and creating a successful business, and helping disabled veterans overcome their personal challenges.
"For veterans who find it difficult to keep up with life in the fast lane, Beit Halochem is the perfect environment offering a warm, encouraging , and welcoming home. .. I salute you."
— Ofer Eden
Beit Halochem is grateful for all the friends who came to share this day with us, and for all our supporters who truly care about the welfare of the men and women who protect Israel for all of us.
Wishing you all Shanah Tovah!