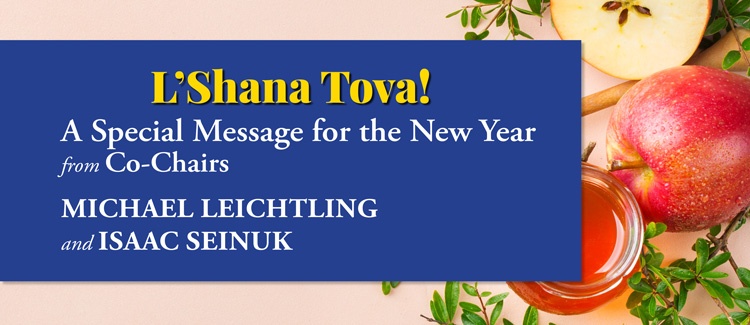 "I live a new life now; my dream is to run again."
Looking forward to the New Year, the disabled veterans and terror attack survivors in Israel are on our minds. We know that they struggle each day to start over, to be strong, and to regain their independence. Rosh Hashanah is a perfect time to be thankful for all that is good in life, and a time to help those who have sacrificed so much to keep Israel safe for all of us.
At our rehabilitation centers in Israel, we see good things happen every day for the wounded heroes of Israel, as they work so hard to rebuild their lives.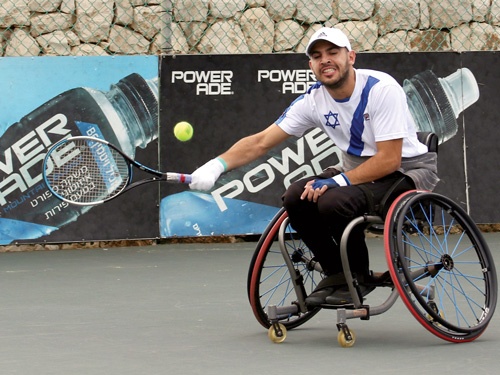 We want to tell you the remarkable story of a friendship between two seriously wounded veterans who came to Beit Halochem, one inspiring the other to keep pushing on the road to recovery. Beit Halochem has played a crucial part in the rehabilitation of two heroes of Israel: Ilai Hayot, and Noam Gershony.
Ilai Hayot, 24-years-old from Korazim in the Galilee, was a commando in the elite Shayetet 13, then in the Maglan. He suffered a severe spinal injury in October 2018, during training exercises. Ilai was on life support for two weeks, hovering between life and death, after spinal surgery. He awoke from the coma to find he was partially paralyzed, then asked to meet with Noam Gershony, the Paralympics champion who began sports training at Beit Halochem as part of his own recovery.
Key to both of their remarkable rehabilitation stories is Beit Halochem. Our specialized sports training is just one of many therapies we offer to our more than 50,000 wounded men and women at the Beit Halochem rehabilitation centers in Tel Aviv, Jerusalem, Haifa, and Beer Sheva. We are the only organization in the USA raising critical funds for the rehabilitation of Israeli disabled veterans.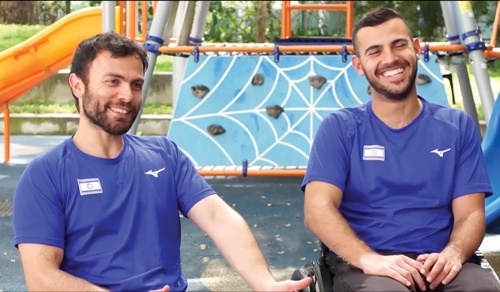 It was at Beit Halochem that Noam discovered wheelchair tennis. The intense training helped him become an international, competitive, paralympic athlete – and an inspiration to others. When he came to visit Ilai at the trauma unit. "He was still very severely injured … when his body was the most hurt," Noam recalls. "Now I work out with him at Beit Halochem, where it started for me, too, and with coach Nimrod Bichler, who is now coaching Ilai. To me this represents the circle of life."
"Their human bond, forged over hours of conversations, physical therapy sessions and games of tennis at Beit Halochem Tel Aviv, shows that with enough determination and support, a remarkable recovery is possible.
Helping one another is the true spirit of Beit Halochem. Ilai remembers, "I couldn't lift a finger. Then I thought of Noam, who has inspired me. I remember being 14 years old and watching him in the London Finals in 2012." As he began his physical recovery at Beit Halochem, Ilai joined in the Young Disabled Veterans Club activities, and is now an integral part of the warm community of encouragement.
Be part of this circle of life: Please make your most generous New Year's gift to Beit Halochem/FIDV now online. Your donation of $36, $54, $180, $360, or another amount will help these heroic men and women, and their families, to start over.
"Noam promised me we would play doubles together when I recovered," Ilai recounts."With time and perseverance, Ilai has become a professional wheelchair tennis player, competing in international tournaments and world championships with Team Israel.
To learn more about the special bond between Noam and Ilai, please click here.
Outside of tennis, Ilai is pursuing an MA in Social Psychology at the IDC Herzliya, majoring in Sports Psychology, hoping to work with other athletes. His own rehabilitation continues full force: "I do three to four hours of physical therapy every day." With the assistance of therapeutic equipment, he hopes to start to walk with crutches in his day-to-day life. "I am working hard toward that."
This High Holiday season you can help our heroes who have paid such a heavy price for Israel's freedom. We cannot do this without you. Thank you!

Michael A. Leichtling
Co Chairman