Rebuilding her Life by Focusing on the Future
The youngest of seven siblings from the southern city of Kiryat Gat, 20-year-old sabra Keren-Or Tegafo was severely injured in 2018 from a car ramming while on combat duty.
"It was supposed to be another routine military mission," she noted.  But her life was changed forever while patrolling in the Palestinian village of Husan. She and her colleagues were making their way to the Great Mosque, stopping for a short rest against a wall. A few minutes later, they saw the large car coming straight at them.
"We were just doing our jobs. But in the end, we were seriously injured. A car rammed right into us," Keren-Or recounts. "It was a car ramming terror attack on us!"
In a matter of seconds, the car hit Keren-Or. She sustained three severe leg fractures, which required surgery. She remained at the hospital for two months, where she began the rehabilitation process.
Now, Keren-Or is ready to move forward to rehabilitation at Beit Halochem Tel Aviv! There she will receive her ongoing physiotherapy and hydrotherapy treatments, and all the other services needed to heal. She will also join the caring community that is Beit Halochem, a warm second home, where everyone understands what she is experiencing; because they have "been there," too.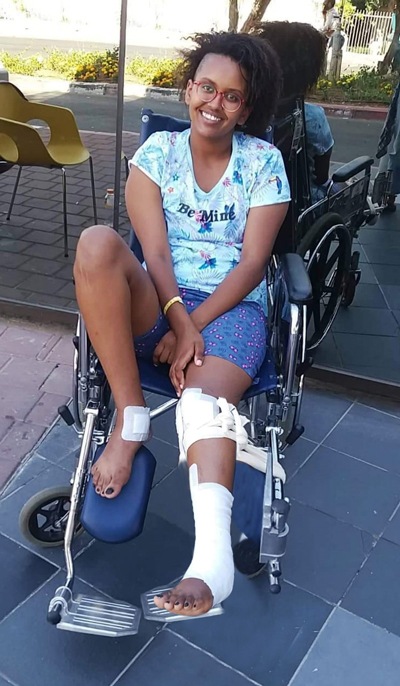 "My injury made me stronger and reinforced me to pursue my goals and reach new heights."
Her parents and first four siblings arrived in Israel from Ethiopia 30 years ago. She is a proud graduate of the IDF pre-military program (2017). Then she enlisted in the Search and Rescue Unit of the Home Front Command and completed the months of arduous military training necessary to achieve her goal of becoming a combat soldier.
Now she works on recovering her strength. She continues to nourish her love of singing and acting. At Beit Halochem she can explore their many cultural, educational and arts programs.
Building a new life for herself, Keren-Or is focused on the future.
"Now that I am released from the hospital, I want to pursue my dream. I have been accepted to the prestigious Yoram Levinstein Acting and Performing Arts School in Tel Aviv. The term begins for me in April."