Member of Beit Halochem breaks the world record for the blind in an Iron Man competition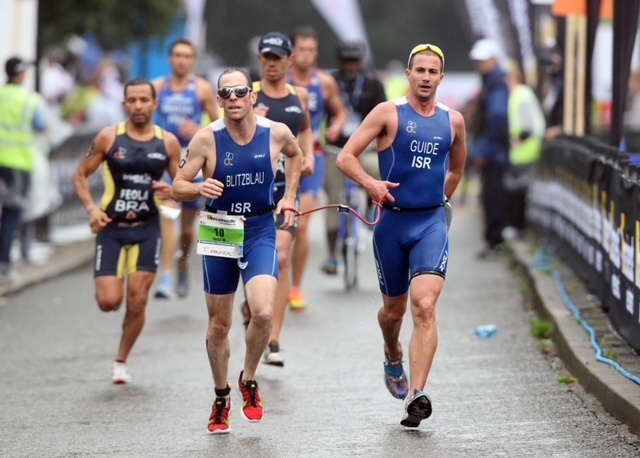 August 19, 2018: When Oren Blitzblau crossed the finish line of the Iron Man competition in Sweden on this Sunday morning, he not only triumphed over the difficult course but also defeated the terrorist who tried to kill him 13 years ago.
Blitzblau, an Israeli, was the only blind participant among 1,700 contestants. He came in 83rd place in his age group. He completed the Iron Man's 3.8 km (2.4 miles) swimming, 180 km biking (112 miles), and 42.1 km running (2.4 miles), with his running companion, Erez Falk, in 10 hours and 51 minutes. This broke the previous record set by a blind person in the competition by 12 minutes.
"I have more room to improve. The feeling of satisfaction as an athlete is a tremendous feeling," explains Blitzblau, "but as a victim of terror, on the national level, it's a huge victory … I returned to my first love, to sports, and I managed to bring honor to the country all over the world today. There's room for improvement and I will do my utmost to improve "
Sports has always played a major role in his life.  As a child in Herzliya, he used to swim competitively, but his swimming career was interrupted when he entered the army, where he served in the Paratroopers Brigade. A few years later he transferred to the Intelligence Corps, where he served … as the intelligence officer of the southern brigade in the Armored Corps near Gaza.
In January 2005, during the arrest of terror suspects, a suicide bomber detonated a bomb in an outpost in the Gaza Strip wounding Blitzblau. At the age of 29, he suffered severe damage to the internal organs,  burns all over his body, impaired hearing and loss of vision.
Blitzblau comes to Beit Halochem to train and work out. His athletic prowess has been supported by sports scholarship donations, and his expenses for training, overseas competitions, coaches, and necessary equipment have been funded by the Zahal Disabled Veterans Organization/ZDVO.
After the rehabilitation process, he began to increase his involvement in sports. In 2013 he was named the European Champion in the Para Triathlon, where he competed in the category of blind persons, which included including swimming (750 meters/ ½ mile), cycling (20 km/12.5 miles) and running (5 km/3.1 miles), finishing ranked 5th in the world.
The competition on August 19 was his first Iron Man competition, which he calls a success. "I experienced a serious injury, but I showed that I can deal here with the Iron Man, and this ability also helps in dealing with the blindness on a daily basis."
Blitzblau is married. the father of two daughters, and lives in Herzliya. Now, after half a year of exhausting training for competition, all Blitzblau wants to do is relax with his wife Nitzan, who accompanied him to Sweden.
"In another six months, I'll start thinking about the next competition where there is also a category of Physically Challenged," he commented.  "I am very happy with the result today. I know which landscapes I am missing out on, as I was not born blind… but my imagination complements what I cannot see. After eight kilometers of riding, we went back into the city, heard the cars and realized that we had left the forest … There's no doubt that the other senses are sharper. I'd be lying if I say it's fun, but I do not want to dig into that. I just want to enjoy the achievement."
Executive Director of ZDVO, Brig. Gen. (res.) Haim Ronen said: "Oren's achievement demonstrates that the strongest force in the world is willpower. We are proud of you and glad to help you make history. You are a model and an inspiration to all of us."