Disadvantages become Advantages
"I have a room full of prosthetic legs: for climbing, running, swimming… I always want to get as far as I can, and as far as possible."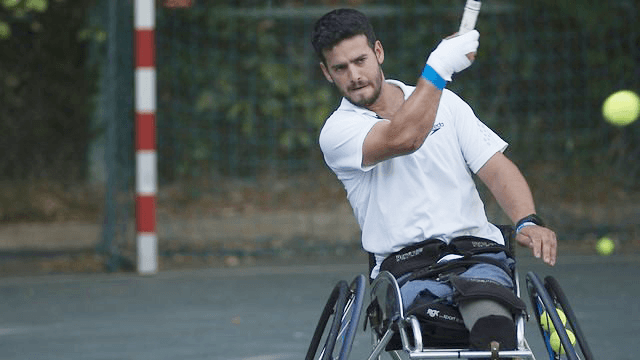 In July 2007, while defending the State of Israel, he lost both of his legs and had a serious arm wound, all because of an IED explosion in Nablus. Despite these grievous wounds and two months in which he hung between life and death, Itay made a miraculous recovery, one that amazed his doctors. He returned to the IDF to finish his service, got a university degree in Life Sciences, and now trains daily at Beit Halochem Tel Aviv.
His chosen sport is wheelchair tennis: "I competed in the 2016 Paralympics in Rio because Beit Halochem gave me the opportunity to play sports. If you believe in yourself, you can make the impossible possible."
"I have a room full of legs: For climbing, running, swimming …" Erenlib jokes, as he removes his prosthetics to sit comfortably in the wheelchair in which he plays tennis.
He has managed to repeatedly amaze his doctors. "I guess the doctors, occupational therapists and physiotherapists in this field are the most pessimistic people in the world," he says, amused.
"He has a three-to-five percent chance of living," the physicians told Erenlib's parents. "He won't make it out of the ICU." The future seemed bleak: Itay won't be able to walk, and certainly not without crutches, the doctors commented.
Despite this, Erenlib is very much alive: walking, running, climbing mountains, having fun, working, and representing Israel in the Paralympics in Rio, trying to win a medal in wheelchair tennis. This, too, is seemingly an almost impossible challenge, but those who know him and the incredible journey he's had won't dare bet against him.
Captain (res.) Itay Erenlib, 33, was born and raised in Petah Tikva, the eldest child of Dov, who worked at Yedioth Ahronoth's Distribution Department, and Sherry, who works as a teacher's assistant in special education.
In his teen years, he played some basketball for Maccabi Petah Tikva, and in 2003 enlisted in the IDF, joining Sayeret Tzanhanim (paratroopers commando unit), where his father also served. There, he became an officer and fought in the Second Lebanon War as a team commander.
After the war, he was transferred and became commander over another team, and in July 2007 he was deployed to Nablus.
"We were supposed to enter an ambush inside the Nablus Casbah, locate militants and find explosives labs," he recounts. "Before leaving our vehicle, we sent a dog twice to sniff around and make sure the alley was clear… we started moving towards the ambush, and as soon as we got there, an explosive was set off. We were all wounded: Lev was moderately wounded, Amos and Yishai lightly, and I was critically hurt … I lost one leg on the spot, and the other stayed with me for another month in the hospital."
His recovery has been a challenge every step of the way. "Mentally, they always say, 'Don't think about the end of the journey. Focus on the next step, what you are doing tomorrow morning.' So, the first step was to be able to stand up. The second step was to be able to balance on one leg, and then to be able to walk. Then, walk for half a kilometer, a kilometer, and two kilometers. And then—running, climbing, going down the stairs and any other possible step."
Read Itay Erenlib's complete story, which originally appeared on YNetnews.com, by clicking here.
The doctors were amazed at his recovery. "… I think every time, they were a little more amazed—but I wasn't. Everything I wanted to do—I did. Even if it wasn't easy. You fall, get up, fall again, and get up again until you succeed. I believe that if a person wants to do something—any person, and any action—he can do it. I believe everyone has the willpower. The question is how and when he uses it, and if he believes in himself."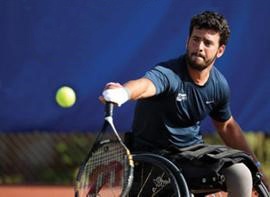 He has overcome many difficulties, more than most.
"That's the message I put across in lectures to children, young people before the draft, soldiers, and adults. I may have dealt with something difficult in life—or rather experienced; I call it an experience because it has a better connotation, but everyone deals with something that to them is unique: An English test at school, a bruise, a breakup, a bad date. The question is how you deal with that difficulty, and how long it takes you. It's important to keep in mind that anything can become a goal to strive for, and there is no goal that cannot be achieved. You might fail on the way—but don't stop smiling. Learn from your failure. Believe, and next time you'll succeed."
Itay spends almost every free moment he has on the tennis court or in fitness training: Working on another move, improving his serve, his forehand and backhand shots, his speed and his response time. It is likely that tennis also played a part in his miraculous recovery and his winner's attitude.
"Before tennis, I tried swimming, running, climbing, table tennis and basketball. And then I did a trial tennis training session and fell in love," Erenlib says, delivering a stroke and then reprimanding himself for what he saw as a poor defensive shot. "This is a completely crazy game, and the most important thing about it is staying sharp and focused."
"I have to constantly keep on moving the wheelchair all the time, all over the court. It's my advantage," Erenlib says. "On the court, you have to work on your advantages, and in practice, you need to work on your disadvantages to make them better, and so they become your advantages.